I am invited to the Launch of Puma Social Club last night.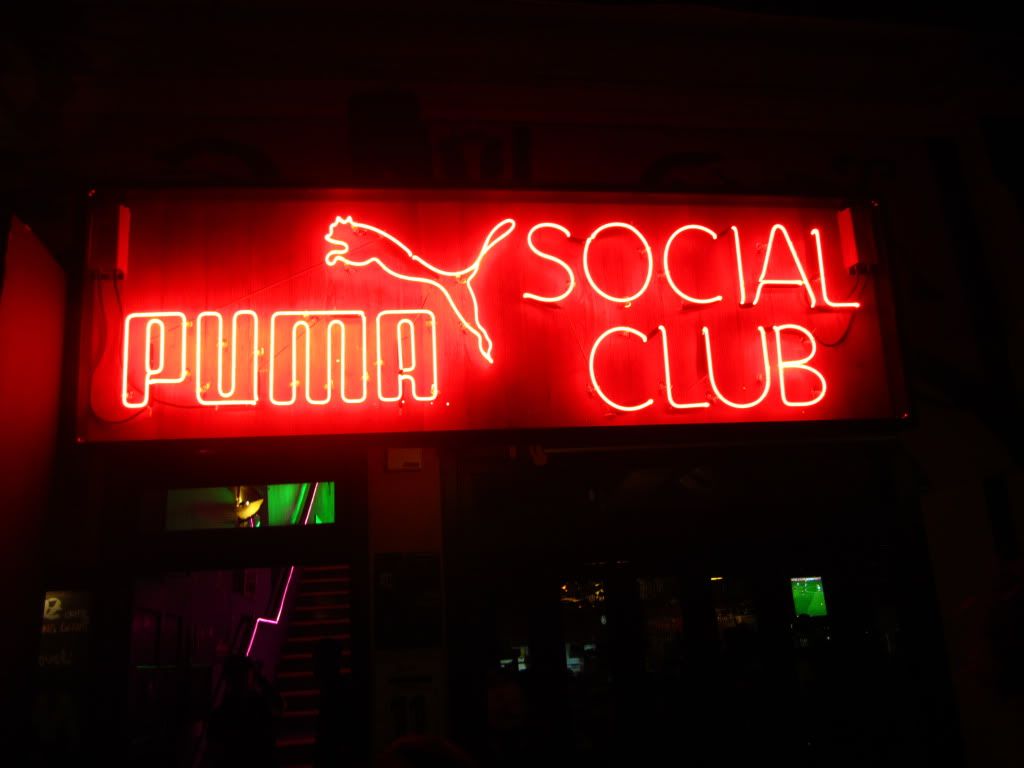 They held in BluJaz Cafe.
It's located at 11 Bali Lane.
Wow.. The striking staircase with the lighting.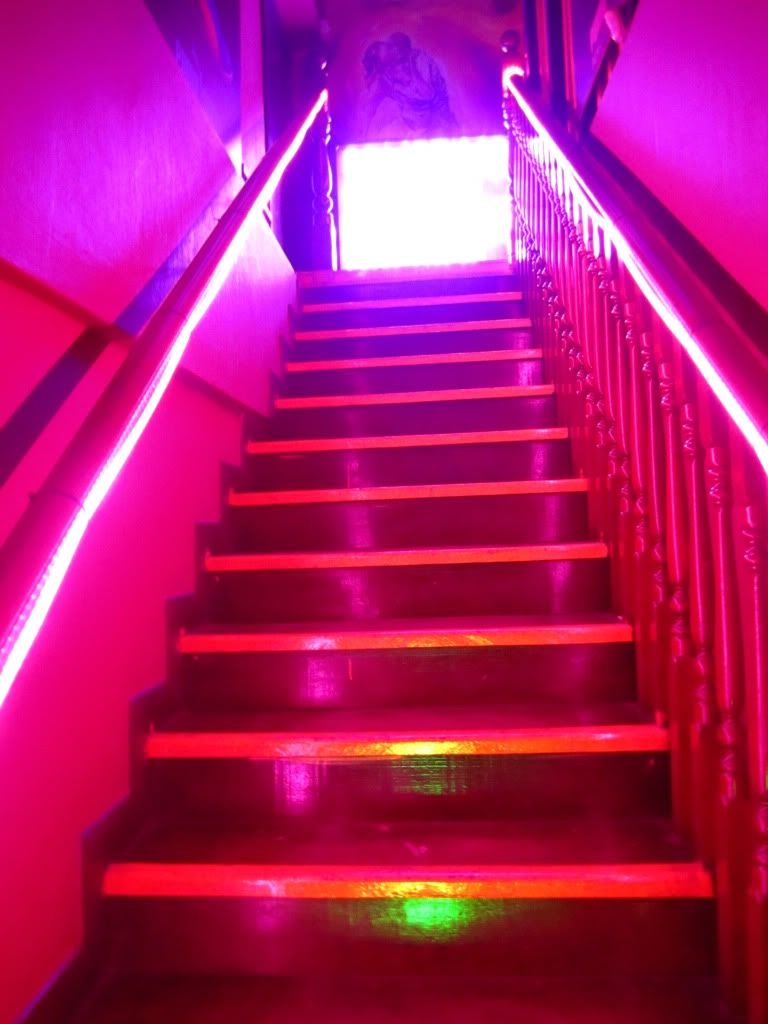 The black card is for us the get the balls/chops.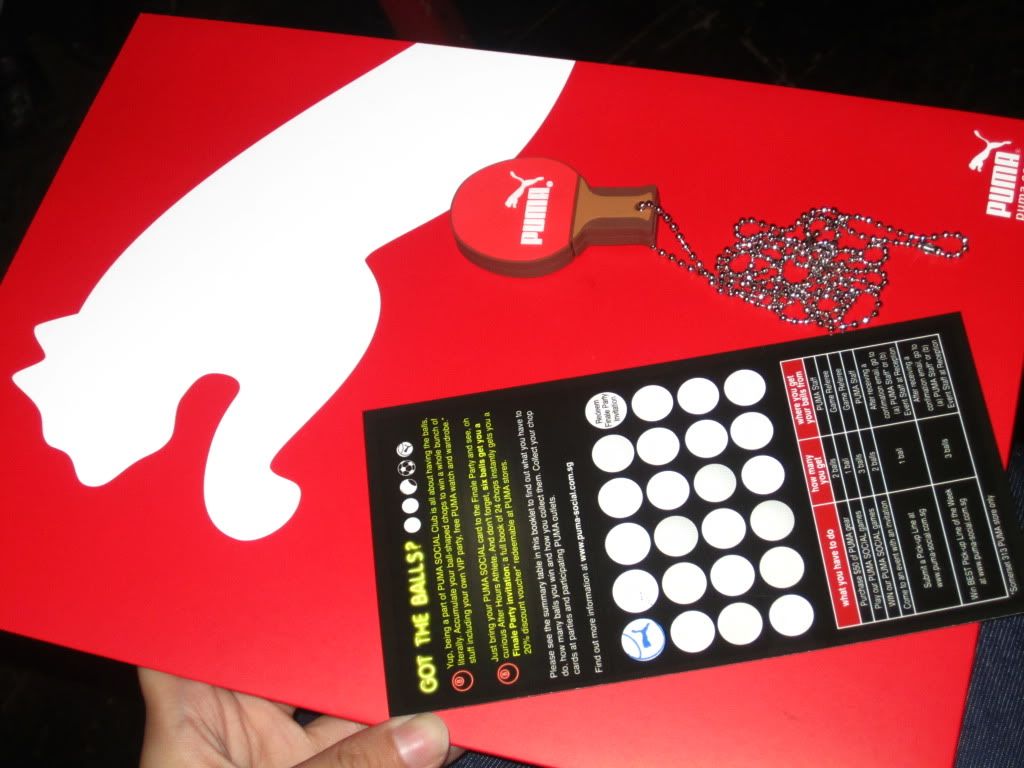 Rene and I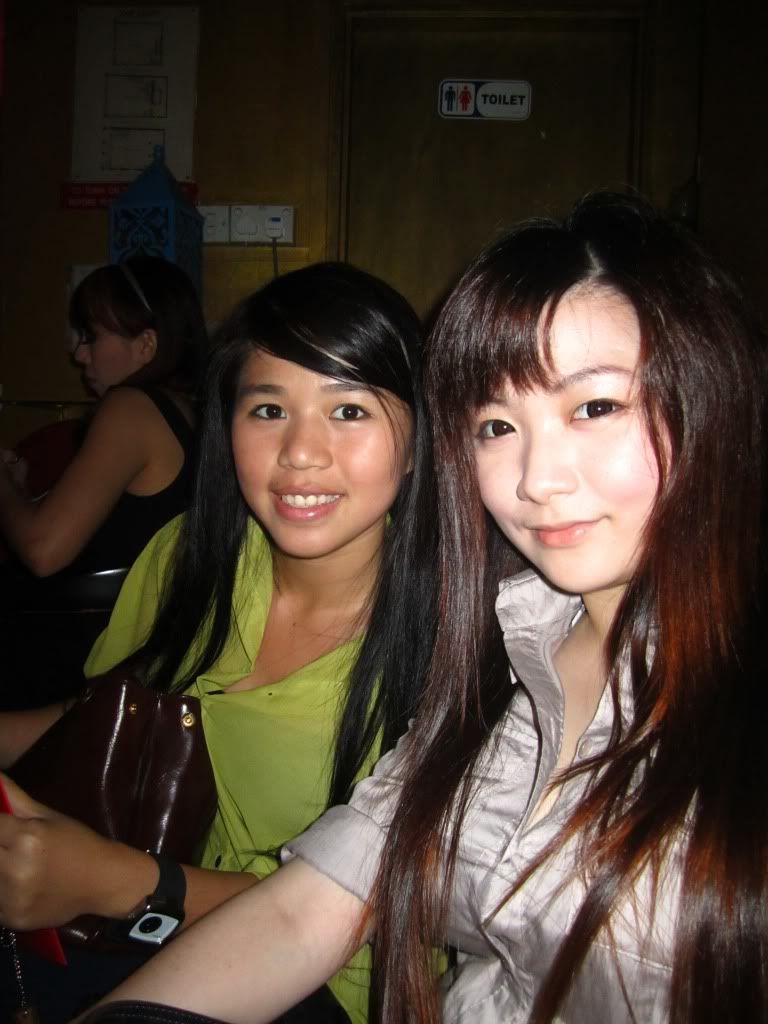 Taking pic with these 2 gorgeous ladies.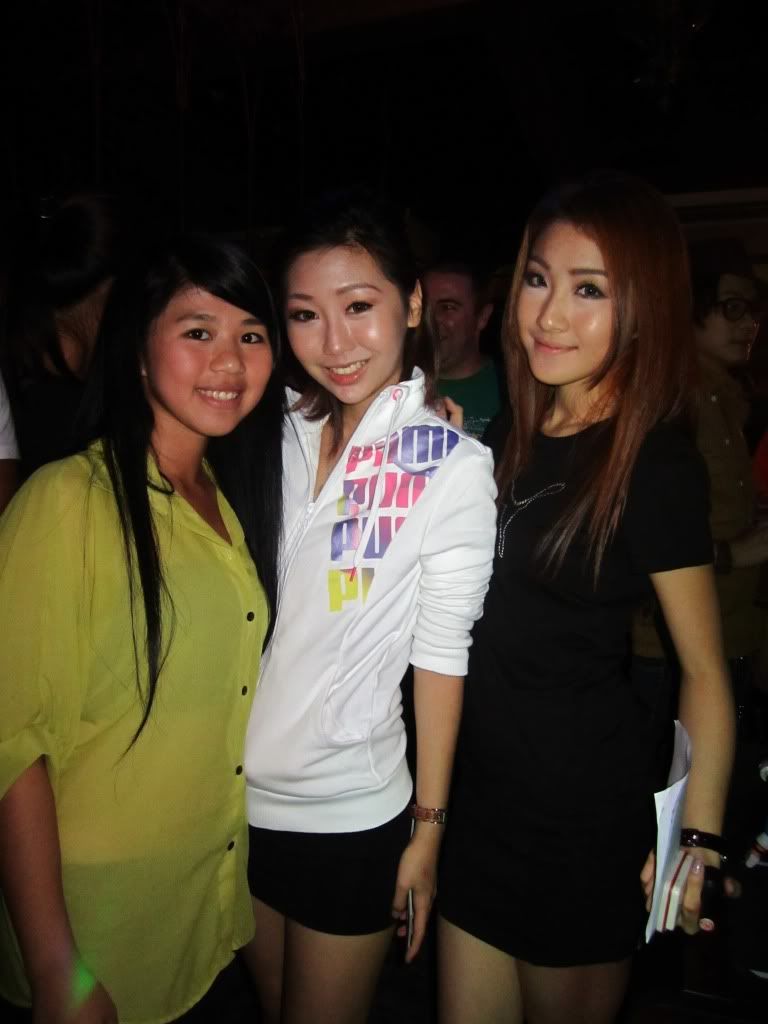 Before the event started, we walked around and discovered these 2 interesting games.
The Foosball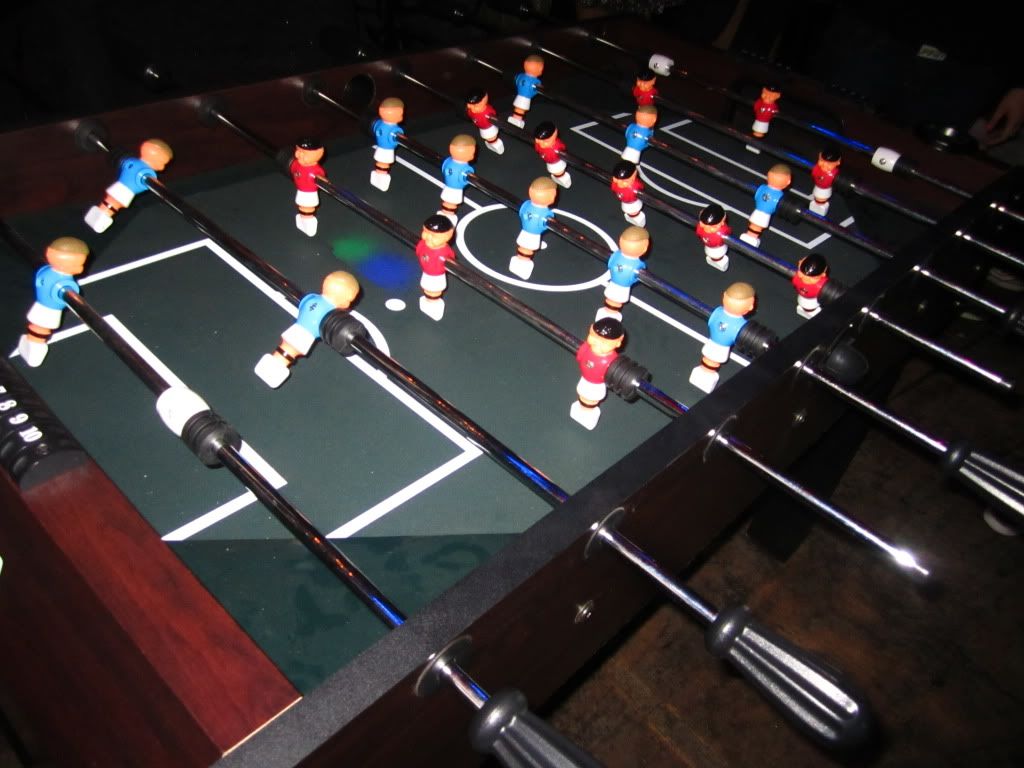 Beer Pong? Ping Pong?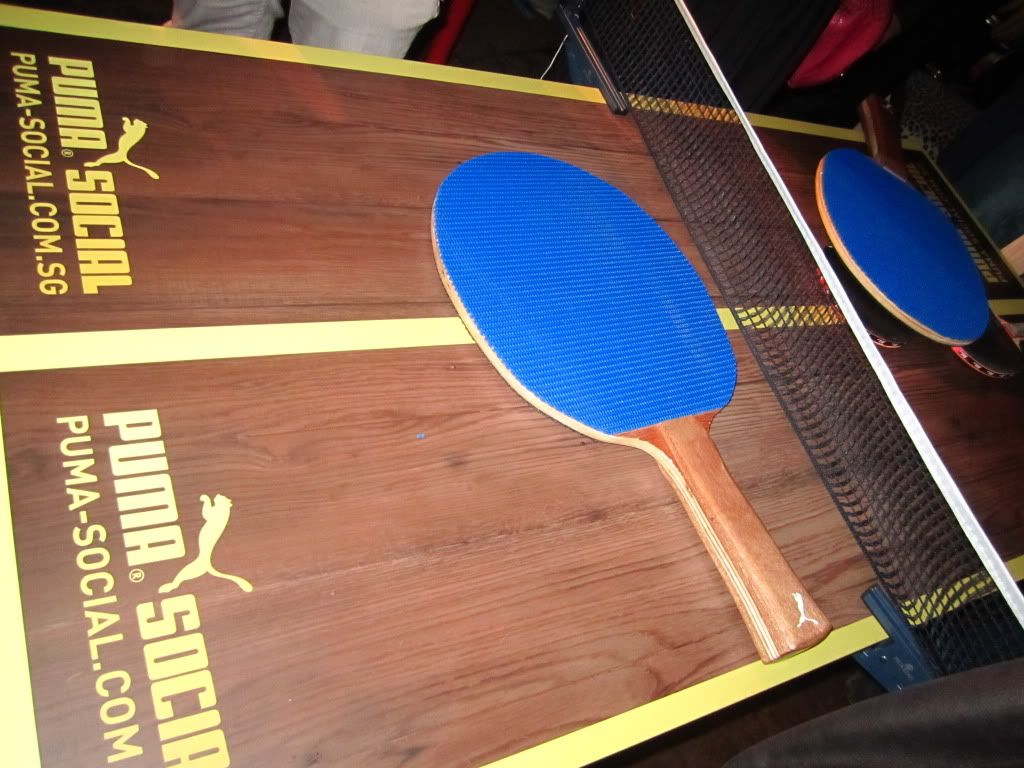 The event is started...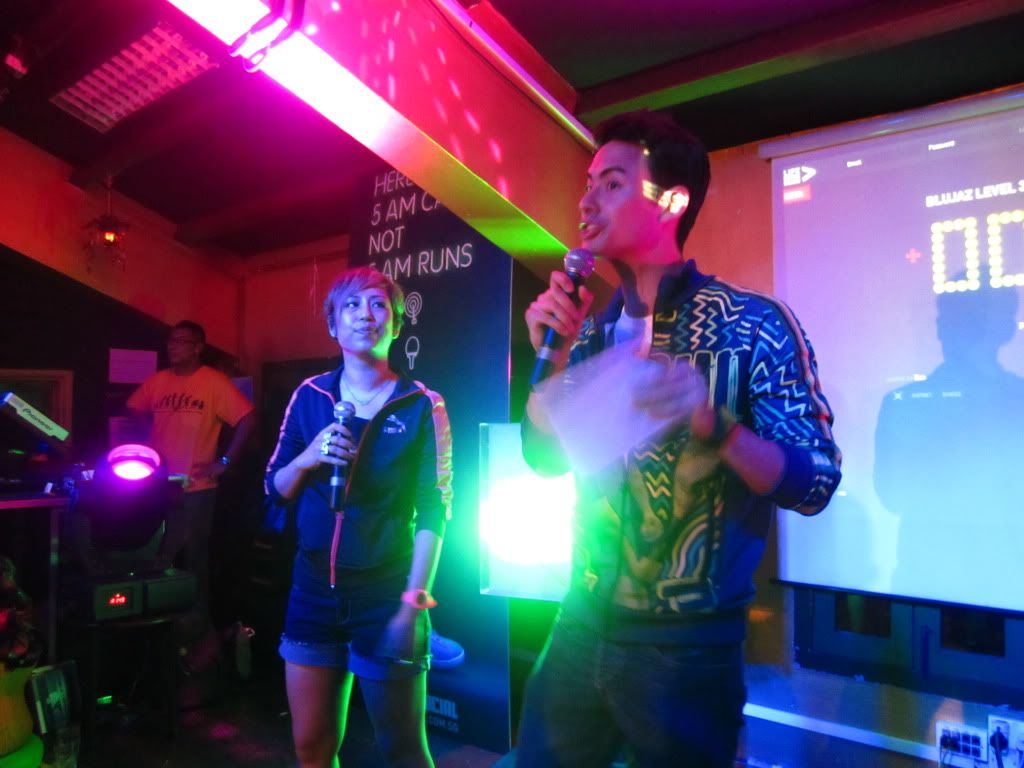 Ordering the beverages time!
Pretty Rene with her BF's Lychee Martini.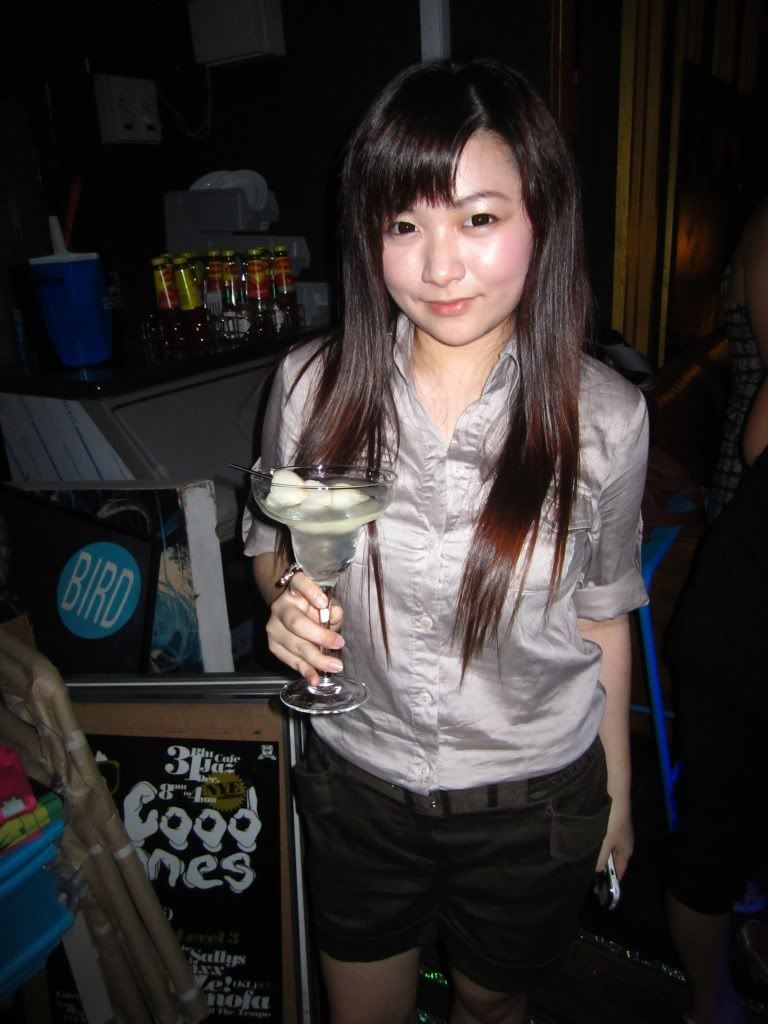 Myself with my Orange Juice. :P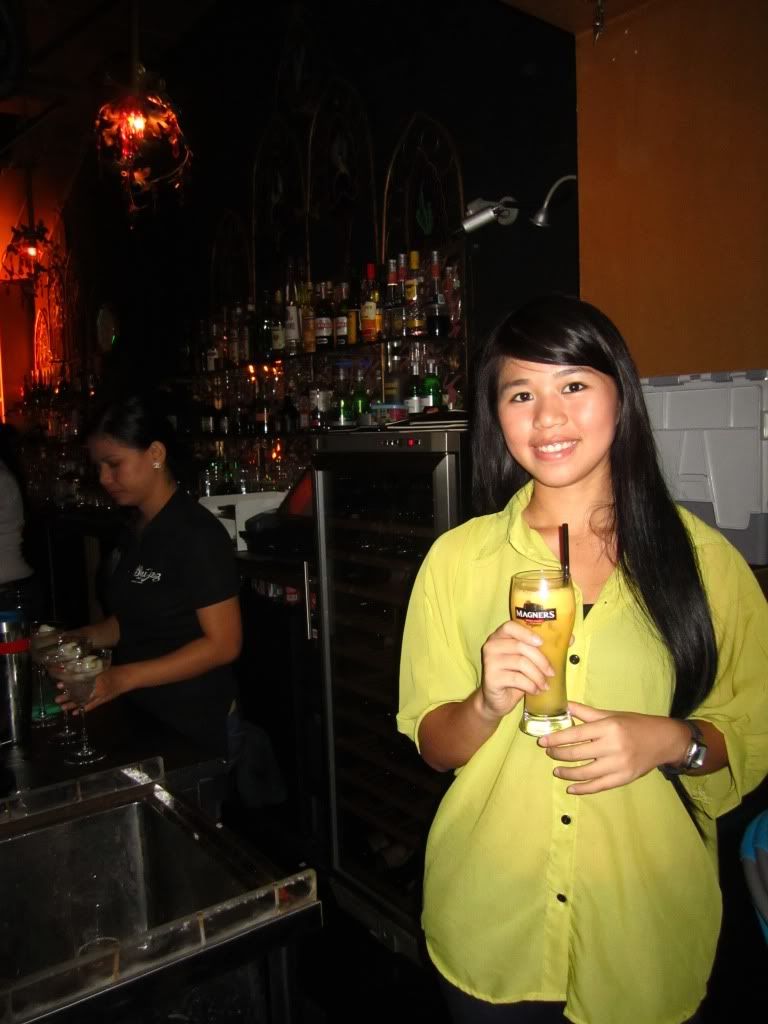 While waiting for our drinks, let's take some picture of the bar =P
Spotted the barista prepared the Lychee Martini.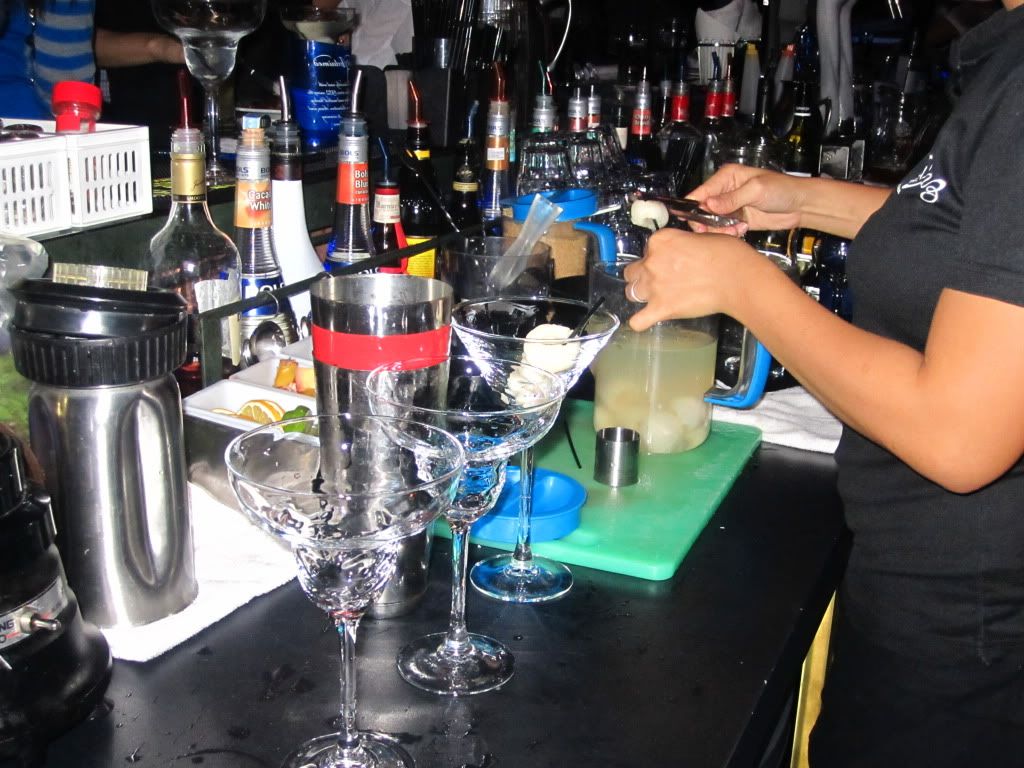 Arifin's Lychee Martini and errr.. Sorry I have no idea what's that called.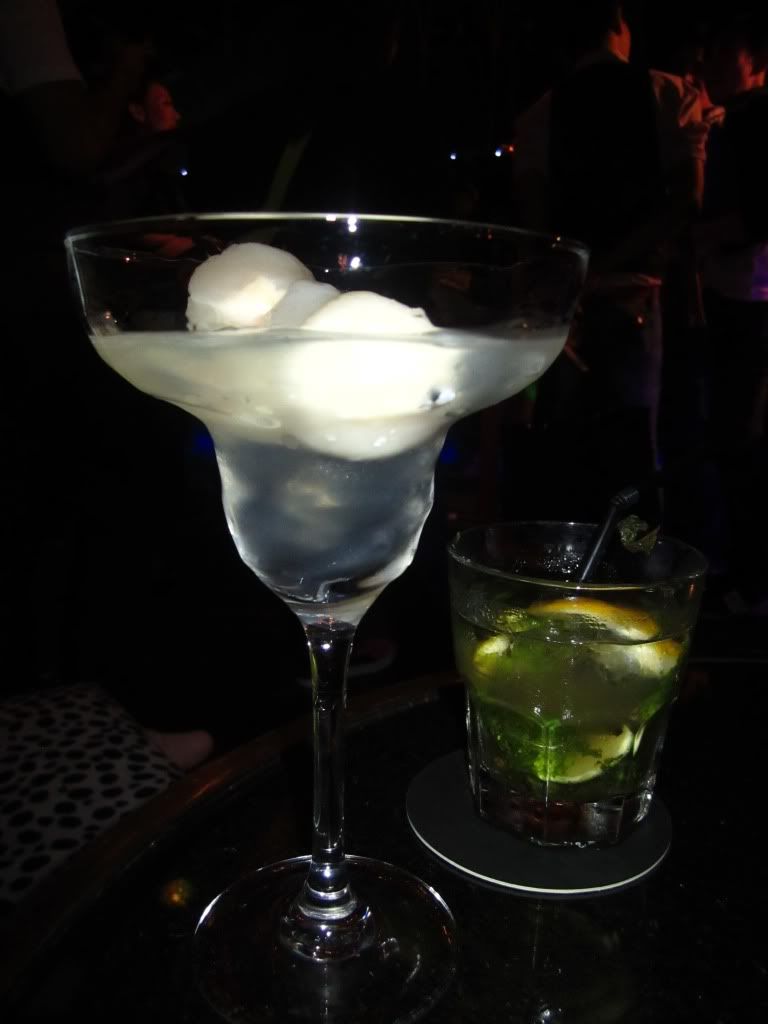 our drinks. Lychee Martini, Mango Lasi (not sure I spelled correctly), and Orange Juice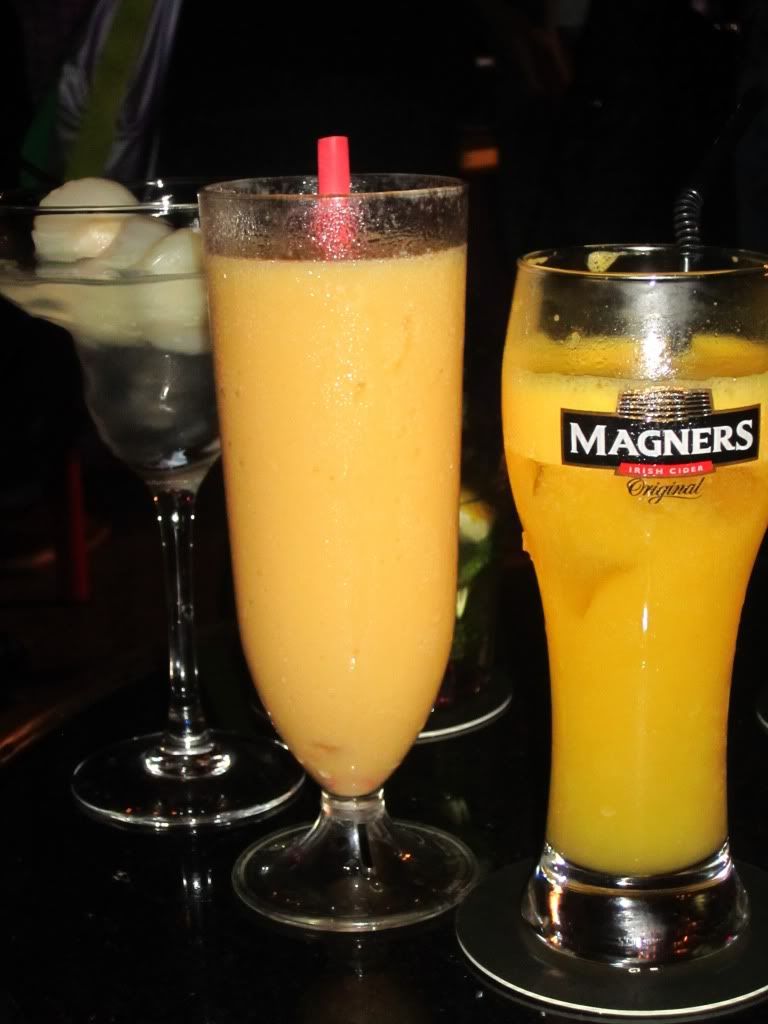 Even the cup pad is PUMA SOCIAL.
The lamp is indeed very unique and antique.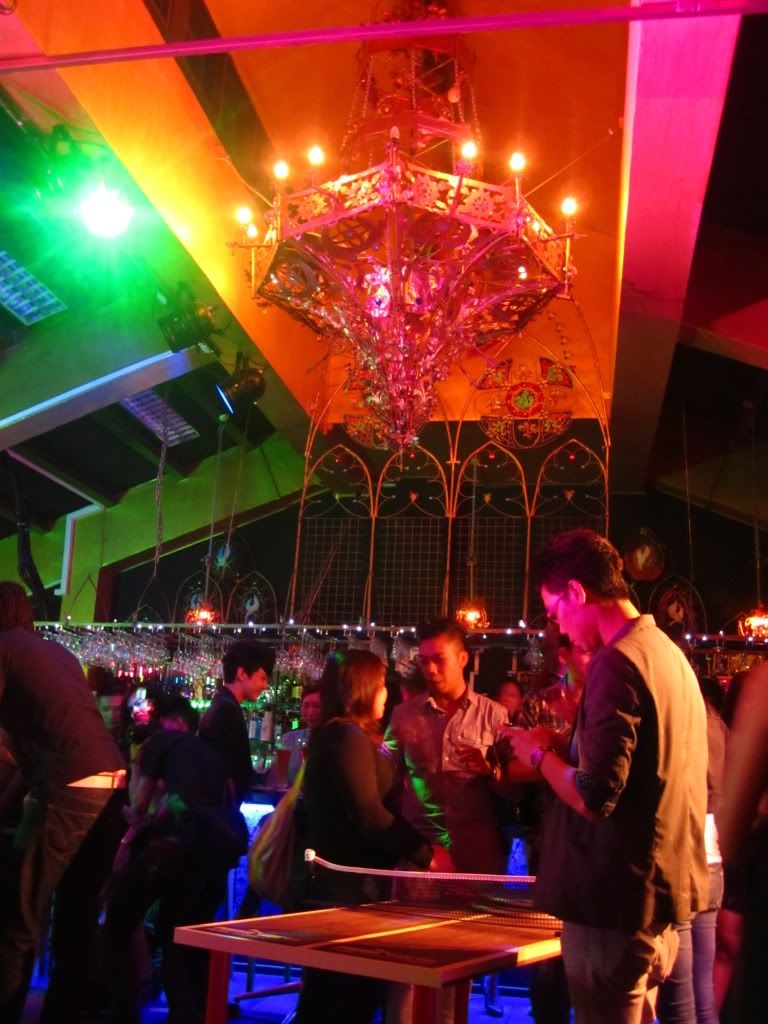 We saw the others play the beer pong?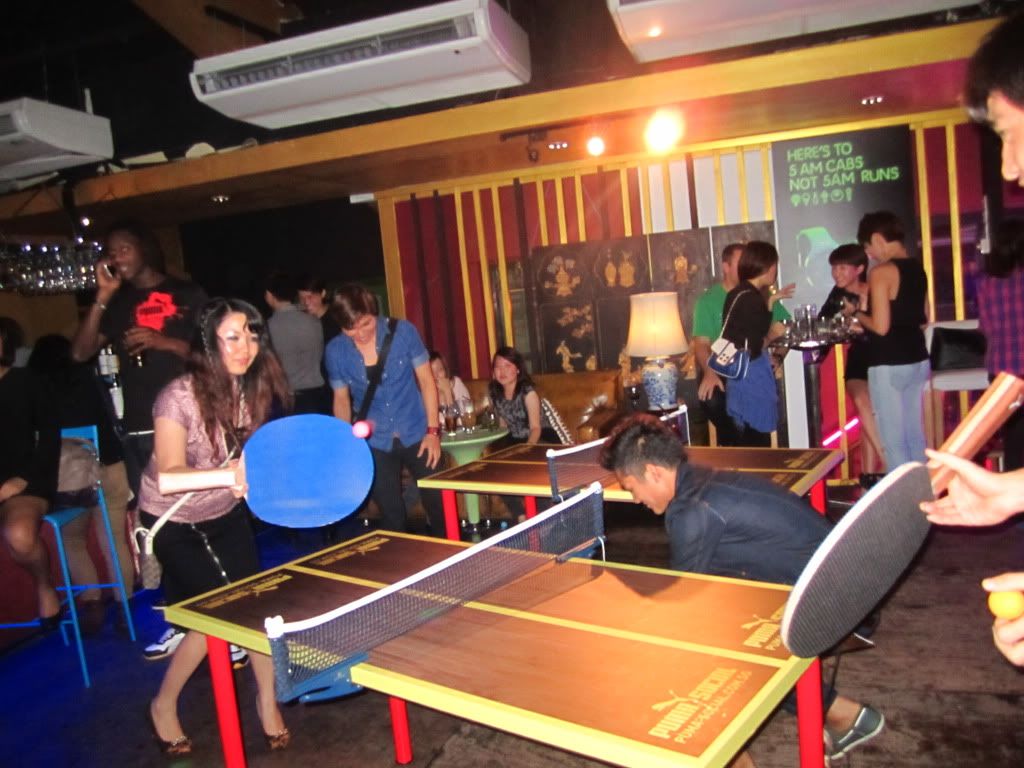 We also join in the game, it was FUN! We used the small one though. :D
We played two rounds and Rene won the both of them. WELL DONE!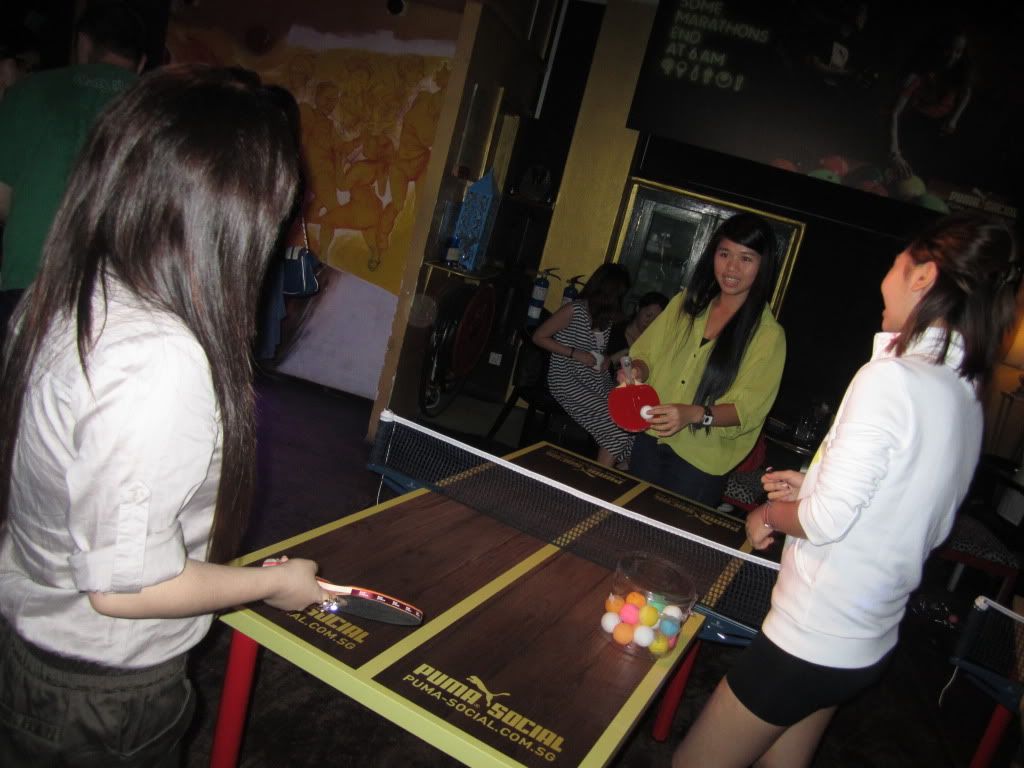 Wow... It seems like the foosball is more attractive. Perhaps, the handsome guys that makes it looks attractive. Wohooo~ haha! =P
So we decided to play this more attractive games.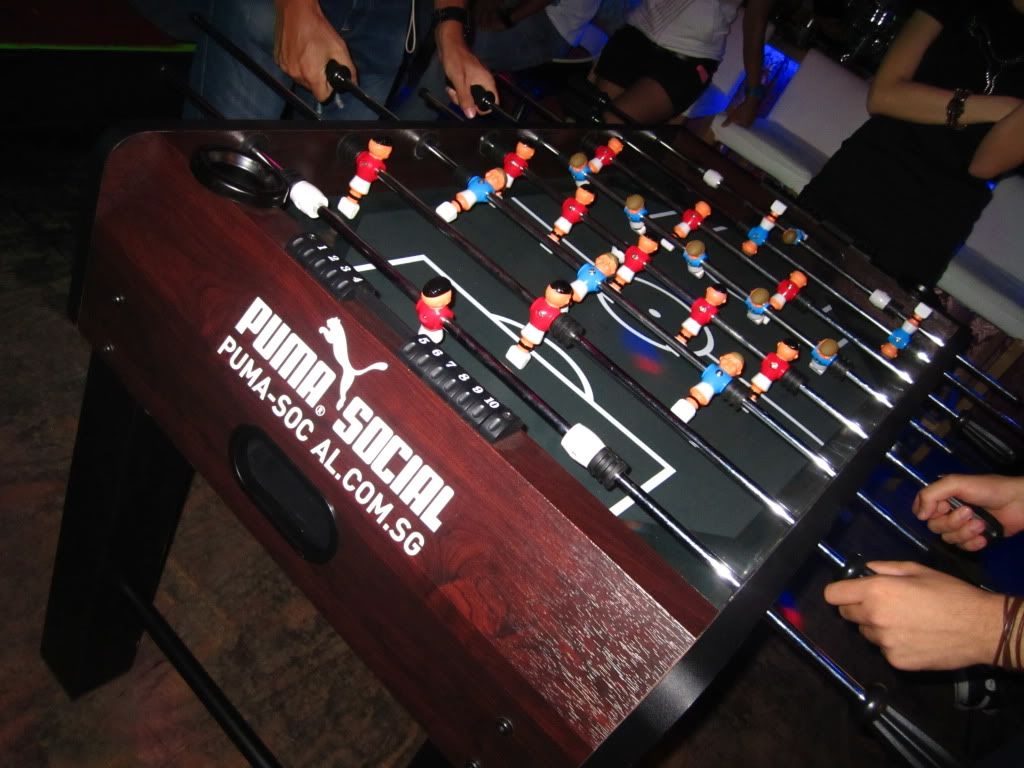 See how Rene enjoyed the game. This was indeed more interesting. To clarify, not because the two handsome guys, okay! The game itself is attractive and more enjoyable. =)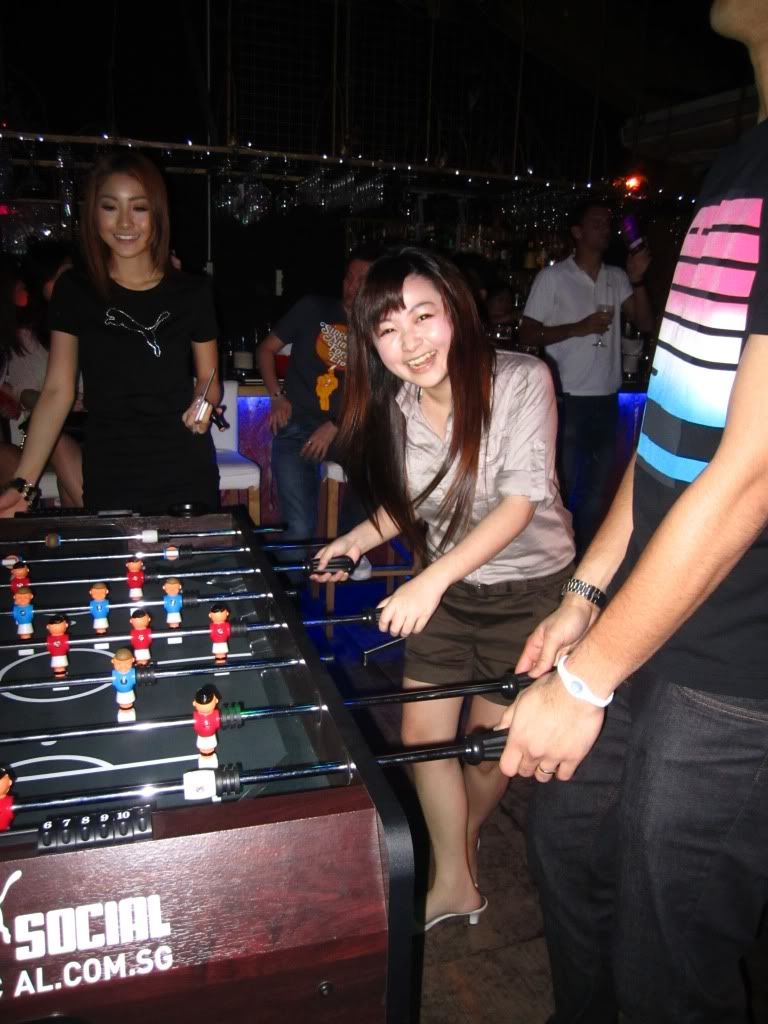 I was too concentrate..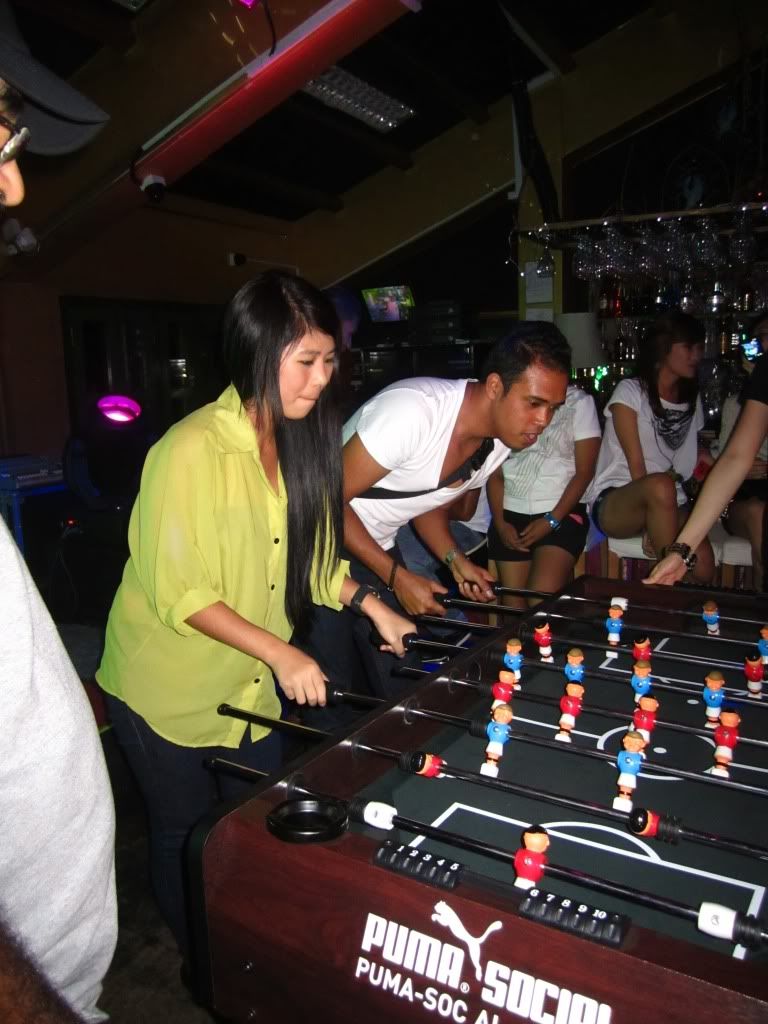 1 guy 1 girl verses 1 guy 1 girl. COOL!
Guess which group won?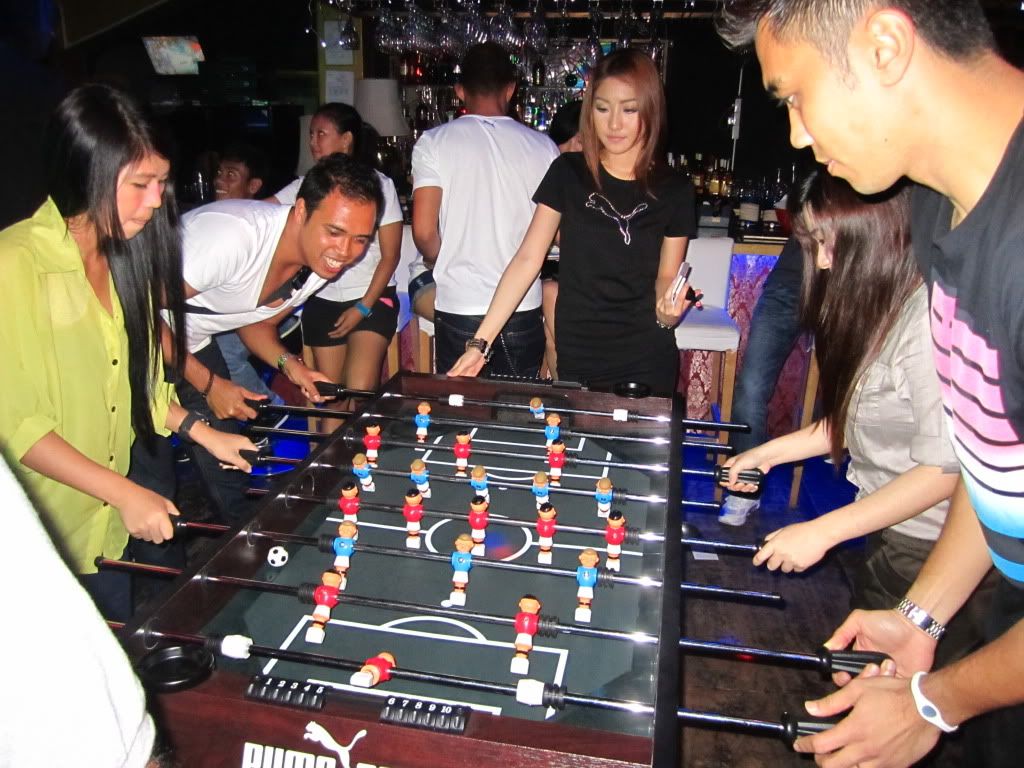 Waiting to get the balls/chops. =D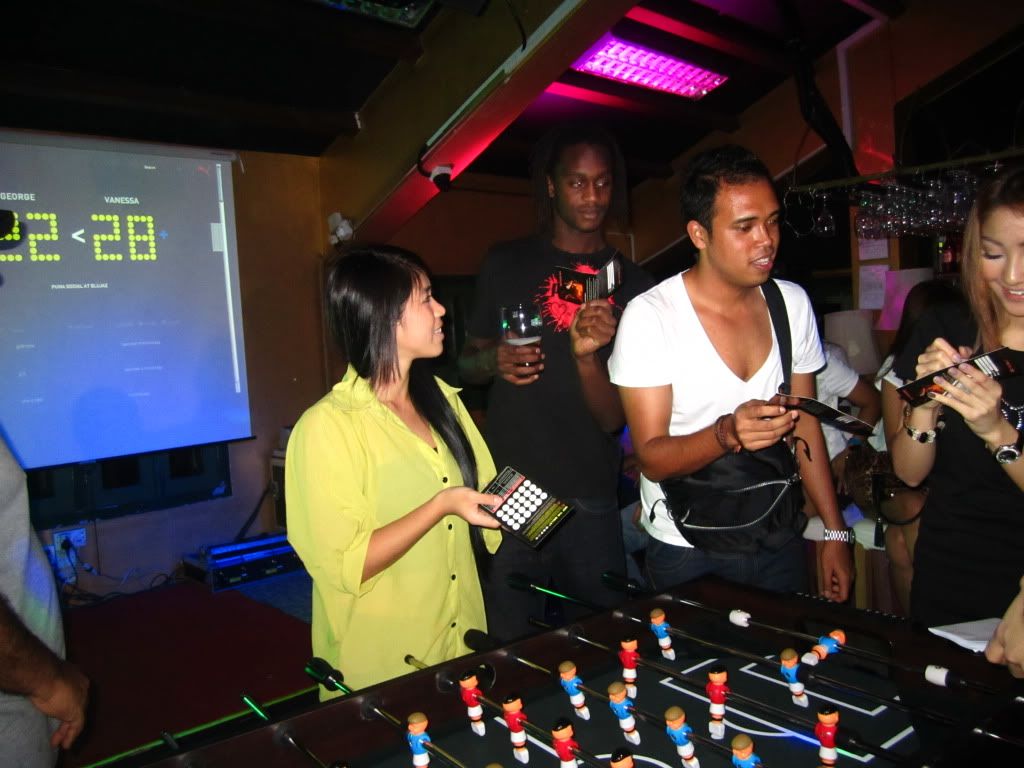 After the game, we decided to go back cos it's quite late as in, we have to work in the next morning.
I've got the balls/chops till the Finale Party column, not sure whether I will get the invitation cos the Finale Party is only for those who are invited. haha. =P
We took some Polaroids before going back. NICE?
This is how the second floor looks like. =)
We didn't really walk around the second floor anyway.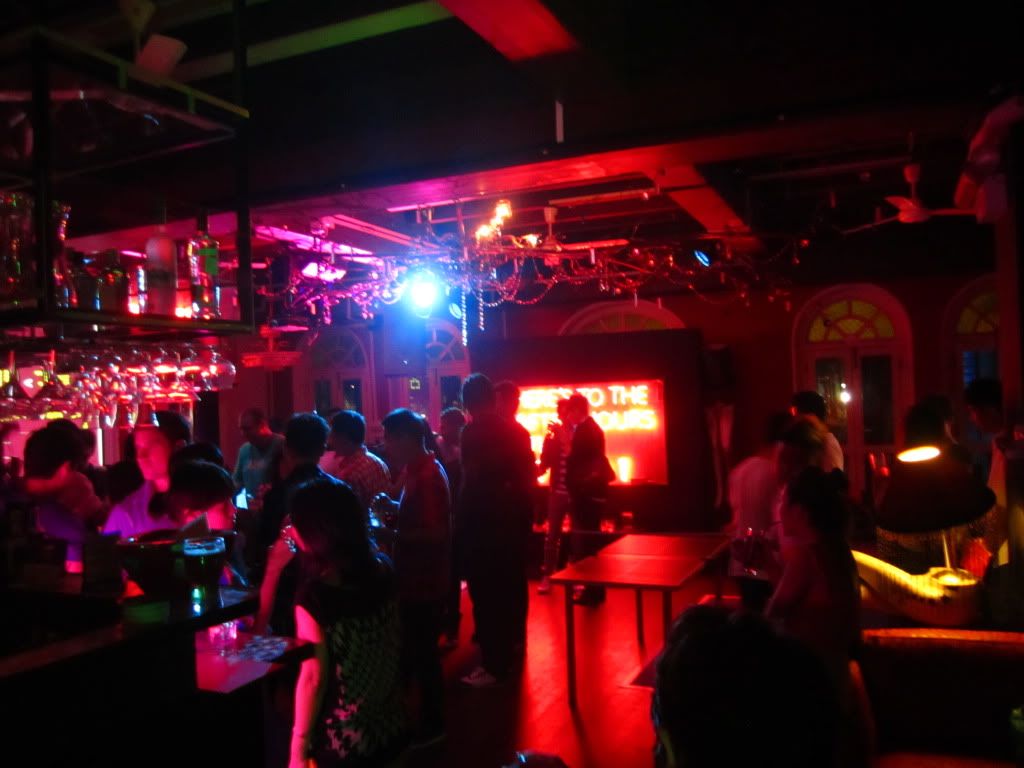 Oh well, just a random pictures with words which I found when I came down from the BluJaz Cafe. I saw it when I went up but not really really noticing the words. Whatever...
It's simply amusing, isn't it?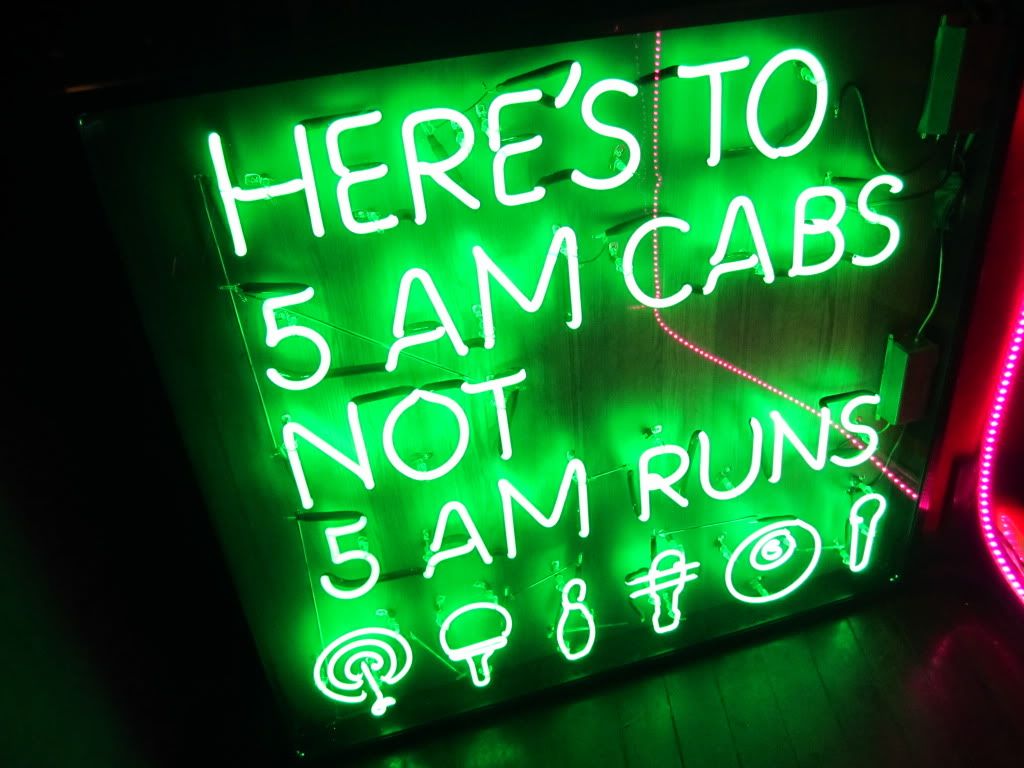 a special photo with the lighting sign board taken by Arifin.

Last but not least, guess what did I get?
Thanks PUMA for this awesomely unique USB.
I enjoyed myself with the attractive and delightful games and had an awesome chit-chatting with Rene and Arifin. Thanks PUMA for the wonderful event.
Special thanks to Nuffnang for giving me the chance to experience this awesome event.
We met some new friends at the event anyway, however, I think it will be more fun if I've known more people at the event.
It was fun after all. :)
PLEASE WAIT!
Let me share you a little bit about
PUMA
and what is
PUMA SOCIAL CLUB
.
I guess all of you might know PUMA is one of the world's leading sport lifestyle companies that designs and develops footwear, apparel and accessories. It's committed to working in ways to contribute to the world by supporting Creativity, SAFE Sustainability and Peace, and by staying true to the values of being Fair, Honest, Positive and Creative in decisions made and actions taken. PUMA starts in Sport and ends in Fashion. Its Sport Performance and Lifestyle labels include categories such as Football, Running, Motorsports, Golf and Sailing.
So what's
PUMA SOCIAL CLUB
?
As I know, it's a global campaign that first rolled-out in Los Angeles, London and now finally in Singapore. It advocates "after-hour" social activities and games one play off the field with friends when the sun goes down.
The late night games from foosball to beer pong, night golf or even phone numbers and the highest number of karaoke hits one can belt out within an hour, the spirit of the PUMA SOCIAL campaign applauds these accomplished individuals who enjoy the smell of victory and the agony of defeat, all with a drink in hand. (WOW)
PUMA SOCIAL launches with several fun quirky initiatives and games. The
Puma Social Club Tour
will be launched throughout March and April 2011 and this exciting and attractive pop-up After-Hours Sports concept party will travel through several popular bars, clubs and selected Puma retail stores here, all built around PUMA's notion of SOCIAL SPORTS, highlighting two popular after-hour sports - foosball and ping pong.
Take part in Got The Balls challenge with the Puma Social Card (available at Puma retail stores)
The Puma Social Club Tour
Date: Sat 19th March (9pm)
Venue: PUMA store (Ion Orchard)
Date: 1st April (10:30pm)
Venue: PLAY club
Date: 8th April (10:30pm)
Venue: The Butter Factory
Date: 9th April (9pm)
Venue: Limited Edition Store, Marina Bay Sands
The Finale Party

(By Invitation Only)

Date: 21st April (8pm)
Venue: Old School.
For more information an regular updates on the Puma Social Club's string of parties, log on to
www.puma-social.com.sg
or for those who own a Facebook account, just simply become a fan of
PUMA SINGAPORE
.
Check it out now!
http://www.puma-social.com.sg/
http://www.puma-social.com.sg/
http://www.puma-social.com.sg/