It's not surprisingly that people love to make judgements by how we walk, how we look, and most of all, how we talk.

Is there something we can do to improve it?
Can we speak like professional if we don't have any confidence to do so? NO! NEVER!
All we need is confidence. I believe if we want to be a successful and wonderful great speaker, we should have confidence and good in giving speech.
I think it's the best way to learn and grow with the members of YMCA Toastmaster.
They are indeed COOL!
I was there last week. I had a fantastic time with them. They are really COOL. From the way they dress up to the way they speak. I'm impressed and amazed when I met and had a conversation with them. O.o
Here are two photos to be shared:
Well, yeah, we are the newbies. :)
Calvin and Adrian.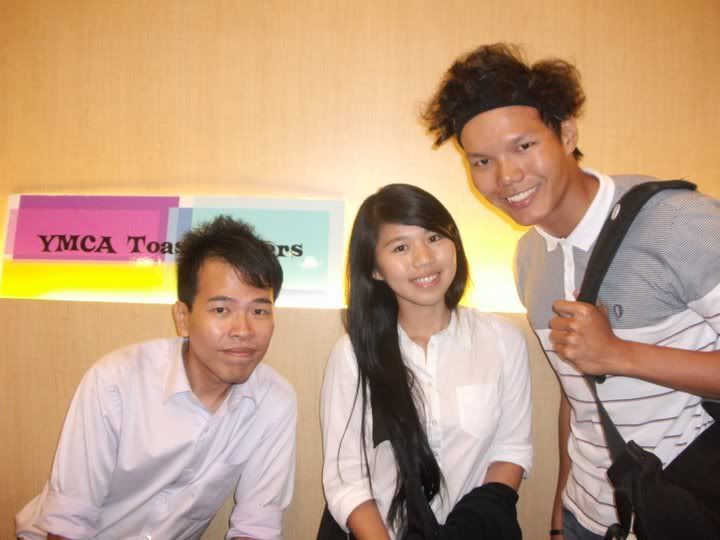 Before going back, we took a picture to prove that we've been there before (haha, I'm kidding) :p
The guys stand beside me is Saddiq, it's really surprise me when I know that he's a friend of Zack and Michelle. Michelle is indeed right, toastmasters unite the world.
I'm really impressed with the way he's talking, so polite and so professional just like any others toastmasters I've met on that day.
Lesson of that day: If you think your light is off. Don't have to worry, the light won't off forever! Guys, don't be discouraged when your light is off, I believe one day, it will return and it's gonna be bright again. Especially when you are ready to make it even brighter. :)
I haven't ready to join the toastmaster now but once I'm ready to join, I'll definitely join in the fun. My school is starting soon, I know I'll be very busy.
YMCA = You Must Come Again. I would love to go again if there's a chance. :))
Guys, if you're keen, annual membership is SG$250 while renewal is S$210. Membership include complimentary one year associate membership with YMCA.
Hence, you'll need to complete two registration form -
1) enclosed;
2) YMCA membership (to be issued at our meeting),
3) payment via cheque attention to "YMCA" or cash and receipt of acknowledgement will be issued.

Associate Youth Membership
- Associate membership
- $20 (excluding GST) Criteria - 21 years and above
- Singaporean/ Permanent Resident
- Employment/ Dependent Pass Holder*/ Full Time Student Pass Holder*
- Able to enjoy the privileges of participating in all courses and programmes except the use of facilities unless otherwise stated.
- Membership is only valid for 1 year. No renewal

JOIN THEM NOW!
You won't regret it! Believe me! :)
For more info:
http://ymca.freetoasthost.info/

Check it out the
Member Privileges
here
.
SMILE as always people!
Have a great Wednesday, peeps! :)