Day 04 – A picture of where
you
I went today.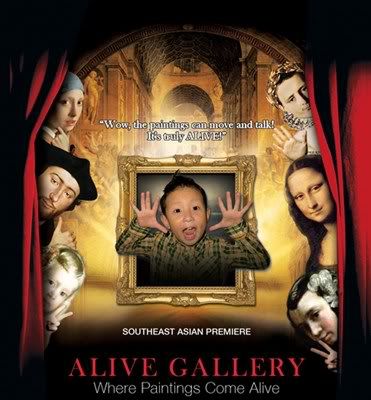 We had our field trip to Alive Gallery today.
Imagine stepping into da Vinci's "The Last Supper" or Michelangelo's "The Sistine Chapel Ceiling Fresco" or having Mona Lisa wave and greet you and answer all your questions.
Now you can at the Alive Gallery! This is the place where fantasy becomes a reality
The Alive Gallery is the only exhibition in the world where visitors can encounter moving and talking characters from the world's most cherished artwork. Using the latest information technology, great artist such as Michelangelo, Leonardo da Vinci, Claude Monet and Jean Millet will interact with visitors and tell the inside stories of their works. Visitors will also get to see the real-life reproduction of Van Gogh's "Cafe Terrace at Night"
Date : 2 July - 3 Oct 2010
Time : Tues - Thurs: 10am to 9pm
Fri: 10am to 10pm
Sat: 12pm to 10pm
Sun: 12pm to 9pm
Closed on Monday except Public Holiday
Venue : D'Tent, Downtown East
Admission : $12 - $16 ($1 ticketing fee applies)
Tickets available at all authorized
TDC
outlets.
Check it out, guys and hope you will enjoy your weekend!
Take care~