So you all have known what's Tzu Chi right? If not, check it out
here
.
Do you remember what I mentioned in the previous post? Is it about the Tzu Chi Partying Day?
No, it's not. It's about the Tzu Chi Recycling Day.
Excited? Alright, let me start...
Edric and I went to the Tzu Chi Recycling Point at Seranggon last Sunday.
Joyce explained to us, what will help if we recycled each can/paper/PET bottle?
Guess what? Each aluminum can = saving 3 hours electrical energy for watching TV.
Click on these below pictures to find out more.
(You need to enlarge to photos to see the clearly picture)
Cans Recycling
Paper Recycling
PET Bottles Recycling
Tzu Chi volunteers encourage the residents to sort the items into different categories such as newspapers; carton boxes; coloured paper; electrical appliances; aluminum; steels; plastics; glass, and clothing.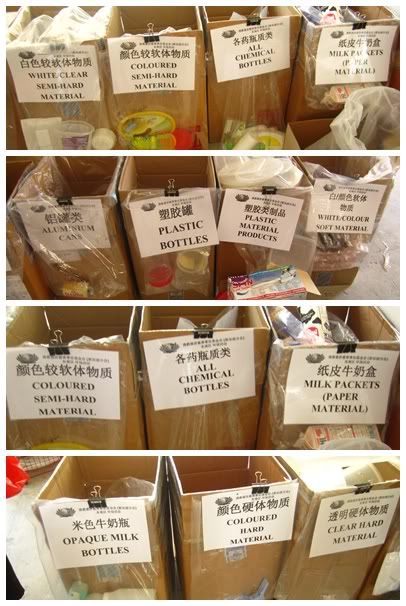 The residents helped in sorting out the recyclable items, but hey, don't get me wrong! The volunteers also help to sort the recyclables, and sometimes they bring along their family members and their children to help out too.
The different categories of recyclable items.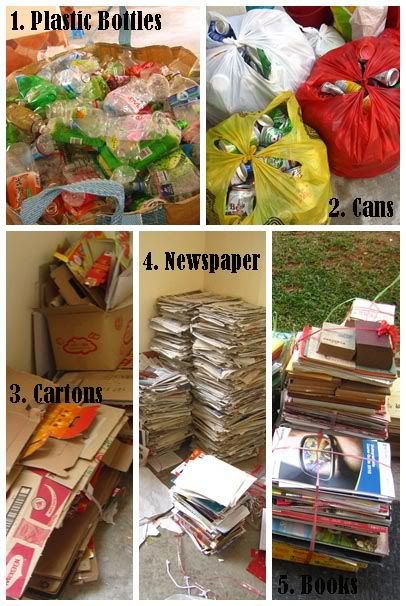 These are all plastic but they need to sort out in different boxes.
The first picture - Plastic Trays.
The second picture - Oil cointainers, Beverage Bottles, Detergent and Chemical Bottles
The third picture - Disposable containers.
The coloured papers.
As what you can see from the above 2 pictures, we can actually bring some un-used electronic items (if you have) to the recycling point too.
(Click to enlarge the pictures below if you think it's too small. Thank you.)
Joyce explained to us about the Tzu Chi's 5 Environmental Protection Concepts.
After read my post, do you have any ideas on what can be done to improve recycling?
Do you think we need more education and awareness on recycling to help us to understand why we need recycling, how to sort and recycle, and the result of the products of recycling? My answer is
YES
. It's always a
YES
when it comes to this question. =)
Well, whatever it is, it requires the efforts of everybody and it would be better if we start it from young.
Through the recycling point visiting, I really learned a lot from Joyce.
I learned on how to recycle, what to recycle, help in sorting the recyclables myself on that day and know the fact that the money collected goes to their 'Seeds of Hope Bursary' programme, which helps needy students pay for their meals and transportation fees."
By recycling, we are not only contributing to resource conservation but we are actually helping the needy students too.
Seriously, I'm impressed. Really impressed.
COME ON!
Everyone in for recycling, so let's go and make a difference.
The next Tzu Chi Recycling Day is on 12 March 2011.
Check out the below recycling point:
Sengkang
- Blk 116A, Rivervale Drive (9am - 12pm)
Tampines
- Blk 202, Tampines St 21 (9am - 12pm)
Serangoon
- Blk 241, Serangoon Ave 3 (8:30am - 12:30pm)
Bedok North
- Blk 185, Bedok North Road (8:30am - 12pm)
Chai Chee
- Blk 27, Chai Chee Ave (8:30am - 12:30pm)
Lucky Valley
- Void Deck of Block 71, Bedok South (9am - 12:30pm)
Jalan Bukit Merah
- Blk 136, Jalan Bukit Merah (9am - 12pm)
-Nearest MRT Station is Tiong Bahru-
Redhill Lane
- Blk 84, Redhill Lane (9am - 12pm)
Shun Fu Road
- Linkway between Blk 307 & 308 (9am - 12pm)
-Nearest MRT Station is Marrymount-
Toa Payoh
- The Pavilion, Blk 78A, Lorong 4 Toa Payoh Central (9am - 12pm)
Yuhua CC
- 90, Boon Lay Way (8:30am - 12pm)
Jurong East
- Ivory Heights Blk 124, Jurong East St13 (9am - 12pm)
Bukit Panjang
- Blk 149, Petir Road (9am - 12pm)
Admiralty
- Blk 682B, Woodlands Drive 62 (9am - 12pm)
If it's nearby your house, why not going down and support?
Bring your recyclable items from your house.
(e.g: Aluminum Cans, Plastic Bottles, Newspapers, etc).
It would be better if you help them in sorting out the items cos by sorting the items yourself, you will appreciate more about the need to recycle and also to keep your recyclables clean.
Let's spread the words.
Once again, Tzu Chi Recycling Day falls on every second Sunday of the month.
Don't hesitate! Collect, keep your recyclables items clean and visit your nearest recycling point to find out yourself about the recycling efforts of the Tzu Chi volunteers.
If you love our mother earth, and you wish to help the needy people. Please spread this environmental awareness to your family and friends. Thank you so much. =)